SAMOAN HISTORY (THE WAYS OF OUR ANCESTORS)
I am writing this blog to share some of my knowledge with those of you who haven't really got the chance to learn about the History and Culture of our ancestors.  Many Samoans today are only familiar with their own Family History and not the history of all Samoa. I will try my best to summarize the history and culture of all Samoa as briefly as possible.
Creation:
There are many versions of how Samoa was created but all versions agree that Tagaloalagi was the founder/creator of Samoa and that the Manu'a islands were the first Islands established by Tagaloa. Since the creation story is a bit long I wont really go into detail about it but instead post the names of those who are mentioned in the creation story.

* The Infamous Samoan Tagaloa Clan aka Sa Tagaloa (Creators & Founders Of Samoa)

1) Tagaloalagi aka Fa'atutupunu'u (Originator and Founder of the Tagaloa Clan aka Sa Tagaloa)
2) Tagaloa Le Fuli

3) Tagaloa Asiasi Nu'u
4) Tagaloa Tolo Nu'u
5) Tagaloa Savali
6) Le Tuli
7) Logonoa
8) Tui Manu'a Ma Samoa Atoa (The only Royal Line that is mentioned in the Creation Story of Samoa).
Royal Lines:
The original Royal Lines and (TUI) titles of ancient Samoa & Tonga descended from the Tagaloa family of Samoa as followed:

1) Tui Manu'a Ma Samoa Atoa (HEAD) - This royal line anciently ruled various islands across the South Pacific including islands such as Tonga, Fiji, Rarotonga, etc.. and was anciently regarded as the highest/sacred & most ancient line out of both Samoa & Tonga.
2) Tui Atua - This royal line is said to have originated from the marriage of Lu of Upolu and the daughter of Tagaloa named Lagituaiva. Lu became known as Lu O Tagaloa the first Tui Atua.

3) Tui A'ana - Malamagaga'e was said to have been the first Tui A'ana.

4) Tui Tonga - Tongan Historians and Traditions assert that the first Tui Tonga (King Of Tonga) named Ahoeitu was the son of a Samoan Chief of the Tui Manu'a Line.

* At a later period various new Chiefly lines were established in Samoa as followed:
1) Malietoa - Warrior Line of Chiefs

2) Gatoaitele

3) Tamasoali'i
4) Le Tagaloa

5) Tonumaipe'a
6) Tupu Tafa'ifa Salamasina
7) Tupu Tafa'ifa Fonoti
etc.. etc.. etc.. etc....
The Weapons Of Samoan Warriors:
Anciently in Samoa a specific type of hard wood was preserved only for the War Clubs of Chiefs. This wood is called Pau Wood and now days can only be found on the west end of Savaii. 
* This is an old photo of various Samoan Weapons:
1) Povai - A long slender war club with a domed end. 
2) Fa'aau*fala - A short mace like war club covered in numerous spikes.
3) Uatogi - A war club made in the shape of a coconut stalk or midrib.
4) Talavalu - A war club with 8 spikes 4 on both  sides.
5) Fa'alau*fa'i - A tooth war club made in the shape of a banana leaf.
6) Amu'amu - War club made in the shape of a paddle.
7) Fa'alautaliga - War club made in the shape of 2 ears placed together.
8) Nifo Oti - Toothed War club originally made out of wood.
9) Tao - Literally means spear, spears were made out of pau wood or mature coconut wood. A unique spear called Tala O Le Lo ( The Spine Of The Lo Fish) had multiple barbs cut into the spear shaft.
* MANY WARRIOR/CHIEFS HAD THEIR OWN PERSONAL WEAPONS FOR EXAMPLE:

1) Ama of Safata Upolu - His weapon was called Faitasi as seen below:

2) Malietoa Laupepa - His War Club was a family War Club called ANAVA which he presented to American William Churchill.

etc.. etc.. etc...

Samoan Canoes:
* Samoan Canoe Builders are called Tufuga Fauva'a. Samoan Tufuga Fauva'a originated from Tagaloa and were famous not only in Samoa but Tonga and Fiji as well. Anciently canoe building technology in parts of Fiji and Tonga were greatly influenced by Samoan Tufuga Fauva'a, for example:  Lesa and Lema'i of the Saleiataua Family built canoes for both Tonga and Fiji. To make things more interesting is that Samoan Lesa and Lema'i were given land in Fiji for building the Fijian War Canoe called Na Drua and there descendents in Fiji are known as the Lemaki  (Lema'i) Clan. The Samoan Lemaki Clan in Fiji gave birth also to another clan in Fiji called Mataisau etc.. etc.. etc...

1) Va'a Tele - Large double hulled plank voyaging canoe.
2) Amatasi - Canoe used for fishing and inter-island travel

3) Taumualua - 50 ft long plank built canoe with 2 bow shaped ends. This canoe was used for warfare and also used for transporting people and goods. Two of these canoes joined together is called Va'alulu when designed for war and Faiosova'a if they were to be used as supply ships.
4) Va'a Alo - 20 to 25 ft long canoe used for fishing
5) Paopao - Small dugout with two outrigger booms
6) Alia - Double hulled plank canoe
7) Fautasi

8) Soatau - Canoe used for War aid
9) Iatolima - A canoe with five outrigger booms
etc.. etc.. etc....
* MANY CHIEFS OF ANCIENT SAMOA HAD THERE OWN PERSONAL FLEET OF CANOES FOR EXAMPLE:
1) The Fierce Samoan Warrior/Chief Le Tagaloa Funefeai had 3 sets of War Canoes:
A. Ta I Le Vai
B. Ta I Le Tai
C. Pualele - This was the infamous personal Canoe of Funefeai that was used to transport him across LAND. Believe it or not but traditions assert that Funefeai would make his enemies pull/lift his personal canoe across land while he sat in it.

2) Tui Manu'a Alia Matua was famous for his War canoe called Va'afasifolau (Canoe For Slaughtering Voyages). This Tui Manu'a was known as Karika in the Cook Islands and his canoe is famous in Rarotonga where he established a ruling line known as Makea/Karika. The photo below is a remake of the canoe of Tui Manu'a Alia Matua when he sailed to the Cook Islands hundreds of years ago.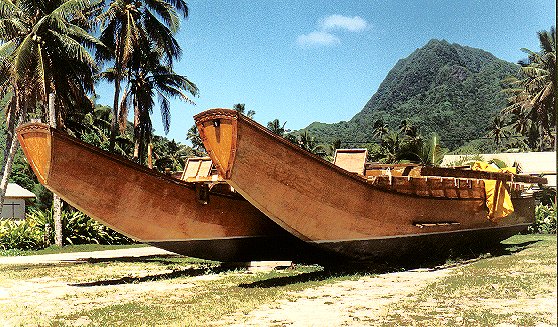 3) Tupu Tafa'ifa Fonoti was famous for his fleet of War Canoes called Va'a O Fonoti (Battle fleet of the King Fonoti). The term Va'a O Fonoti is also the honorific term for those villages and clans that helped Fonoti in his War for Kingship.

etc.. etc... etc.. etc....
Samoan Dances:
1) Taualuga - Performed by the village Taupou or Manaia

2) Ma'ulu'ulu

3) Sasa
4) Fa'ataupati
5) Sate or pronounced Sake - This is a traditional Samoan War Dance that is rarely practiced now days but was performed with sticks or spears.

6) Ailao - This was a traditional Samoan War Dance that is rarely practiced now days but was performed with a Knife or paddles. This War Dance however, evolved into the modern day Siva Afi (Samoan Fire Knife Dance).

* In 1946 the famous Samoan dance called Siva Afi (Samoan Fire Knife Dance) was born and its creator and founder was a Samoan man named Freddie Letuli who added fire to the traditional Samoan War Dance Ailao.

* In reference to the traditional war dances of Samoa I will give you an account from the natives of Tonga. These 2 traditional Samoan War Dances were practiced in Tonga as well.  The written document below is from a book called, (AN ACCOUNT OF THE TONGA ISLANDS) by William Mariner a Palagi who was adopted by a Tongan Chief named Finau Ulukalala. This is what was recorded while he was in Tonga:

7) Poula - This dance was a traditional night dance of ancient Samoa that is no longer practiced.

* There are many more Dances of Ancient Samoa that I didn't list but I will get to them later.
Samoan Houses
* Samoan House Builders are called Tufuga Fau Fale. The origin of Samoan Houses again revolves around Tagaloa just like the creation story. Traditions assert that there were four well known house builders of ancient Samoa, they were Selefuti, Moe, Segi & Leifi. These Four were known as: FALEFA O LE AIGA SA LE MALAMA etc... etc... etc.... 

1) Fale Tele- Traditional Samoan Round House
2) Fale Afolau - Traditional Samoan Long House
3) Fale O'o - Traditional Samoan Small House

4) Tunoa or Fale Umu - Traditional Samoan Cooking House
etc.. etc.. etc....
Samoan Tattoo

The art/tools of Tattooing is said to have originated from Fiji by way of Tilafaiga and Taema. Many who don't truly understand the origins of tattooing in Samoa seem to think that the Malofie aka Pe'a originated from Fiji which is by far wrong. The art of tattooing may have originated from Fiji but the Malofie aka Pe'a originated on Samoan soil for in Fiji only the women get tattooed not the men which means that the Samoan Male Tattoo the Malofie aka Pe'a originated in Samoa.
Samoan Tattooists are called Tufuga Ta Tatau and were famous not only in Samoa but Tonga and a few other islands as well. Besides Samoans wearing the traditional Samoan Tattoo many Chiefs of Tonga also wore the traditional Samoan Tattoo for example:
1) Tui Tonga Fatafehi Fuanunuiava
2) Tui Kanokupolu Tau*fa'ahau (George) Tupou 1
3) Tui Kanokupolu Mata'eleha'amea
4) Chief Vaha'i
* High chiefs of the Tu'i Kanokupolu line in Tonga were tattooed by Samoan tufuga due to Tongan customs of tapu and a lineage that stems from Samoa.

* A tatau of Samoan origin was considered esteemed by Tongan Chiefly Families . This was largely due to the origins of chiefly lineages in Tonga connecting to Manu'a and Upolu; and because of a divine birthright bestowed on certain Samoan tattoo families.
* The 2 famous Tattoo families of Samoa were the Sa Su'a Clan and Sa Tulo'ena Clan.
etc.. etc... etc..... etc....

Being that Samoan History is too long to address all on one blog please be sure to look out for SAMOAN HISTORY (THE WAYS OF OUR ANCESTORS) PT 2.
In Part 2 I will go into detail about Samoan Politics as well as a summary of Royal Lines, Wars, Warriors, Influence on other islands etc.. etc.. etc.. etc...
Soifua!